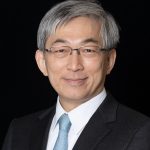 JP / EN
The 2020 school year started off with a series of misfortune. The entrance ceremony was cancelled due to the COVID-19 pandemic, and orientations for new students were held online. With the new semester starting in late April, all classes were held online via video chat, and clinical clerkship was cancelled. In the middle of all these misfortunes, the college of medicine responded by creating video contents of lectures, implementing online practices, and rescheduling the timetable in order to prevent interruption of the education curriculum. The details of these efforts are introduced in the article "Medical Education during the pandemic: a current report" published in volume 51, no.3 of "Medical Education", a journal of the society for medical education (http://jsme.umin.ac.jp/journal/5103_mag.html).
Although there is much debate concerning online education, this type of education isn't just all disadvantageous; there are also some benefits for the students. For example, students have stated that online education have enabled them to study at their own pace, and they can re-watch the lecture video to check if there were any points that they missed. Due to such examples, there are some voices asking the school to continue online lecture even after the pandemic ceases.
Since October, lectures and practices have started to return to the normal state. Although it is necessary to avoid the "three closeness (closed space, close distance, high density)" and pay close attention to one's health state to prevent infection, it is also important to come to school and study with fellow classmates. By doing so, the university has returned to its vibrant state, with smiles returning to many faces. Although it is unpredictable how the current state will turn out, there are also things that can be learned from this unpredictable state. It is a great time for students to learn medicine, and it would be best if they can make it a habit to follow the norm that is now set in our society and act while paying attention to their health. While maintaining physical distance between people remains important, I sincerely hope that social interaction should never be impeded, and that everyone will cooperate with each other to overcome these difficult times.
October 2020
Chair Masayuki MASU